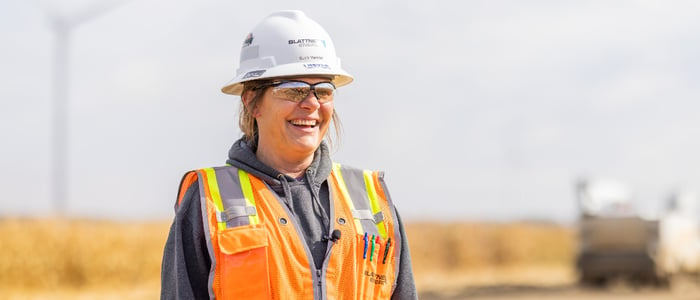 Blattner Site Quality Coordinators Take On Vital Role
November 1, 2022
Quality is the standard of something that is measured against other things or the degree of excellence of something.
The definition of the word is interpreted differently by everyone. At Blattner, a site quality coordinator interprets that word very literally and associates it with safety and production.
"Safety is first and foremost at Blattner," site quality coordinator Susie Vermaat said. "Quality is second and production is third. On site, we have safety coordinators and superintendents for production. If we want quality to be part of the conversation, we need site quality coordinators around as well."
November 7-11 is World Quality Week and November is also World Quality Month. The month helps raise awareness of the quality management profession globally. The focus for World Quality Week this year is "Quality Conscience: Doing The Right Thing."
At Blattner, site quality coordinators are responsible for facilitating the effective implementation of a quality program at a project level. They are an unbiased project team member that is independent from production goal influences.
'A Second Set of Eyes'
Blattner senior project manager David Sorg has witnessed firsthand the difference a site quality coordinator can make on a project. There is always a lot of pile installation at any solar construction project. Recently at Sorg's project, inspectors identified two complete rows of production pile that were driven to the incorrect height based on the flood zone very early on in construction.
The quality team at the project devised a measuring tool with pile tolerances identified by color. The pile crews utilized these in the field and eliminated reveal issues throughout pile installation. Sorg's crews used the same tools on the second phase of the project and quickly identified reveal issues in the first two power blocks.
"Having a second set of eyes on our work is paramount," Sorg said. "Catching problems early and incorporating those issues into conversations with the crews results in the mitigation of issues becoming systemic throughout a project. The quality team really is working hand-in-hand with our crews. The project team has quickly seen the value add of having dedicated quality individuals on site because they work in such a collaborative manner."
Site quality coordinators engage in conversations with superintendents, management and crews on a daily basis. They spend the majority of their days out in the field observing tasks, asking questions and learning more about team members' tasks. They will ask what the quality risks are for a specific task they are observing.
"That can range from civil putting in a culvert to install wiring a tower or cleaning up a site," Vermaat said. "These conversations allow the crew to step back for a minute and think about quality in everything that they do. And, getting the crews talking about quality has helped promote a positive feedback culture."
Site manager Rocky Sauceda said it's been an "eye opener" to work with a site quality coordinator at his most recent wind project in southwestern Minnesota. Sauceda has been able to see what his project's true defect rates are when it came to its foundation subcontractors. Vermaat, who has worked with Sauceda, has provided him and the rest of the crew with realistic data to review with Blattner's subcontractors.
"This has allowed us to have candid feedback and better equip our team to emphasize the importance of providing a quality product," Sauceda said. "If we increase our ability to do it right the first time, then we decrease our chances of a safety exposure.
"Having a team member who is dedicated to quality helps the team stay accountable. It's also helped in bringing quality aspects to the conversation during meetings. We're talking all the time about safety, quality and then production."
Creating Consistency & Satisfaction
Leading teams in root cause analysis sessions to become familiar with every problem-solving technique is also something site quality coordinators focus in on. They want to help identify, resolve and prevent quality issues in collaboration with their teams.
"I like working with all the different crews and trades on a daily basis," Vermaat said. "Together, we work on recognizing quality risks and talk out how to minimize those risks. To me, quality is how our product measures up to other companies producing the same product. We want to make our customers happy by delivering the best product possible with consistent work."
Vermaat started at Blattner in 2018 at a wind project in Texas. The Stetsonville, Wisconsin, native had a completely different career as a paralegal in Chicago before deciding to switch gears. She's always been a curious person and was encouraged to ask questions from the time she started by her supervisors.
"I wanted to learn every task out here and why Blattner did things they way it did. Blane Braswell and Josh Watson knew my strengths and passion for this industry before I even realized what they were," Vermaat said. "They both encouraged me to apply for a site quality coordinator position. They put me in a position to be quality focused."
Sauceda said it was an easy acclimation for everyone once they understood the role of the site quality coordinator. His superintendents on his wind energy project have utilized Vermaat as much as possible. To him, Blattner is taking another step up in quality to separate itself from the competition.
"This is about building our clients' confidence in knowing that when Blattner completes a project, there is no doubt in their mind that it's done to specification," Sauceda said. "We want to give them a product they can be proud of. Quality is about us being able to candidly look at our shortcomings and not just accepting them. We're actively pursuing avenues to strengthen our company."
Doing It Right The First Time
The site quality team that Sorg mentioned earlier did a great job walking the line of being collaborative while helping team members be accountable to their responsibility to turn over a quality product.
"Blattner is emphasizing quality at another level," Sorg said. "It's a great assurance that site quality coordinators are being so collaborative. Dedicated quality makes the whole team better."
One of the Blattner Basics is "Doing It Right The First Time." This basic helps create consistency and prevents wasted production time on rework. It also helps on the safety side.
"Blattner continues to evolve and is a frontrunner because of the processes we have in place," Vermaat said. "We promote safety, quality and production. When we are consistent in the steps that we take every day, we'll continue to produce a product that we're proud of and that our clients will continue to come back for."
To learn more about career opportunities with Blattner, just click below.