Empowering future generations to flourish.
We are proud to announce our first Sustainability Program. This program is both a statement of what we believe is important and a roadmap for our future growth in environmental stewardship, investments in people and sustainable company practices. We are committed to demonstrating our values every day, and we will continue to expand our sustainability program in order to exceed customer expectations, reflect our employees' expertise and dedication, and serve our communities for generations to come.
Stewards of the environment.
Blattner builds the clean energy infrastructure that the world needs to power generations to come. We are proud to be leading America to a clean energy future.
Blattner has long supported a clean energy transition and is dedicated to being an important part of a more sustainable future. Communities have a right to grow and thrive without sacrificing clean air, clean water, and our children's health. A sustainable future, for all, requires more renewable energy. We make that renewable energy possible through our industry leading wind and solar power generation and energy storage projects.
Steps toward sustainability.
23
Million
Blattner's Total Number Of Solar Panels Installed Through 2022
23
Thousand
Blattner's Total Number Of Wind Turbines Installed Through 2022
59
Thousand
Total number of Megawatts Installed Through 2022
15
Million homes
Projects built by Blattner power approximately 15 million homes.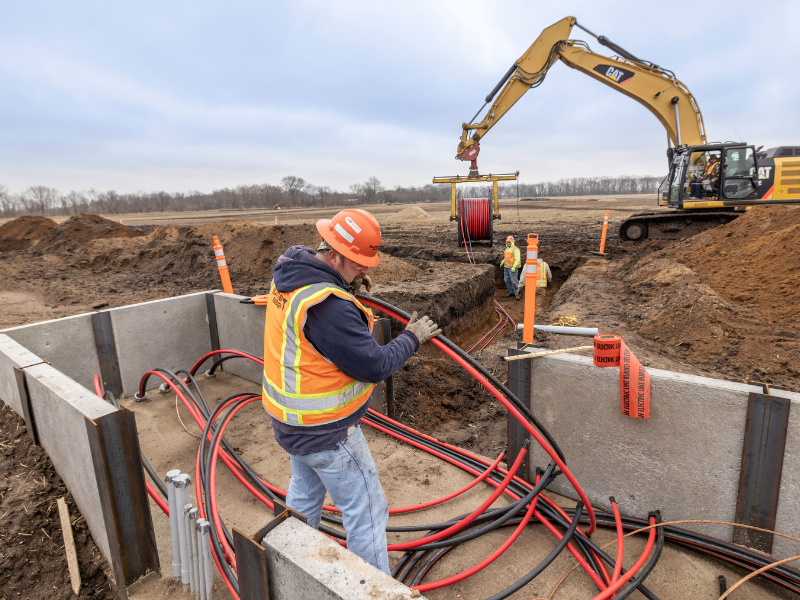 Our commitment to safety and quality.
Our culture is our strength. Building on more than a century of experience and rooted in community values, Blattner leads in performance, innovation, and by doing things right. We are committed to supporting our people, our planet, and our principles -- including through worker safety, training, diversity & inclusion, ethics and compliance and good governance -- and by prioritizing the sustainability of all our practices as well as those of our suppliers. Learn more about our commitment to safety and quality.
From the ground up.
In July 2009, our corporate office building received LEED® Platinum Certification by the U.S. Green Building Council, the highest designation available to buildings demonstrating energy efficiency and sustainability. Some of the building's notable sustainability features are:
Storage and collection of recyclables
Low-emitting & fuel-efficient vehicles
Bicycle storage & changing rooms
Heat-island effect, roof & non-roof
Controllability of systems, lighting
Construction waste management
Optimized energy performance
Sustainable cleaning policy
Water efficient landscaping
Ground source heat pump
On-site renewable energy
Light pollution reduction
Low-emitting materials
Increased ventilation
Water use reduction
Storm water design
Parking capacity
Thermal comfort
Our corporate building supports indoor environmental quality, innovation and design, energy and atmosphere and water efficiency.