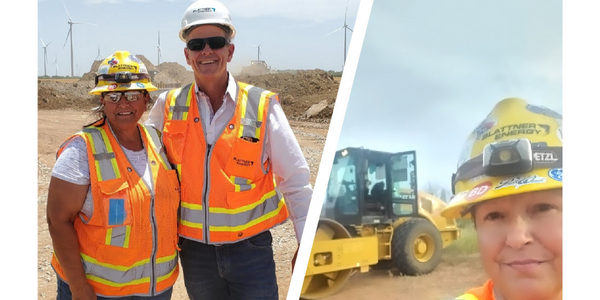 Blattner Roller Operator Achieves Dream of Traveling Country
December 6, 2022
Gracie Hamblen wanted to do some exploring.
Back in 2008, she was a roller operator doing highway construction and paving, but she hadn't been able to spread her wings and explore the country like she had always dreamed of doing.
The Riverton, Wyoming, native was considering packing her bags to head to Alaska to investigate oil pipeline jobs before she discovered Blattner Energy.
"I'm always thankful for when Blattner showed up in my life," Hamblen said. "I knew someone who had worked at Blattner and recommended it. I'm glad I took that leap of faith."
Life On The Road
Hamblen has been a roller operator for Blattner Energy for 14 years now and has helped build more than 20 renewable energy projects over her tenure with the company. A lot of her job involves backfill on wind and solar projects and smoothing out roads for heavy equipment to access the sites. As she puts it: "I move a lot of dirt."
"I've put in culvert pipe on air bridges, I've put in crane pads – and I've even operated a trash compactor," Hamblen said. "I enjoy what I do. I work with a passion. I want to do a good job for this company. It's a good feeling what we're doing. Even to this day, when I complete a job, it gives me a sense of accomplishment."
Since her first Blattner project in North Dakota, Hamblen has worked on projects in six other states, including California, New Mexico, Wyoming, Texas, Oklahoma and Colorado. Her career takes her places, which she couldn't be happier about.
"I enjoy being on the road. Yes, it takes time to acclimate to that kind of life, but you adjust and grow to love it," Hamblen said. "I've been blessed to meet so many awesome people in this company. It makes you sentimental after a while. Each day is different. Each job site is different. I love the uniqueness of it all.
"I've been blessed to be with Blattner this long."
Meeting Mr. Blattner
At her most recent assignment on a wind energy project in Texas, Hamblen was able to meet Blattner President and CEO Scott Blattner. The experience meant a lot to her.
"It was important and special for all of us on the project to connect with him. Mr. Blattner came out and really took the time to get to know us. It was more than 100 degrees. It was hot! That says something about him," Hamblen said. "Being with Blattner so long, I considered it a privilege to meet him."
Gracie Hamblen (left) with Blattner President and CEO Scott Blattner on a wind energy project in Texas.
Scott Blattner recalled it being 108 degrees on site when Gracie approached him.
"She had this great big smile on her face," Scott said. "She talked about the pride she had in working for us. But, really, she was telling me she had a lot of pride in the people she worked with every day. She's been on 20 wind and solar projects. Gracie represents Blattner. I just have the last name. She's the type of employee who has made the name. She is Blattner."
Having Scott Blattner thank her for her years of service meant the world to her. However, Hamblen feels a lot of gratitude to the company for how it's changed her life. That loyalty, and the fact that Blattner specializes in renewable energy construction, are why she has stayed with the company for this long.
"I'm proud of the work we do across the country," she said. "Blattner has given me the opportunity I wouldn't have been able to have otherwise. I feel privileged to work for the Blattner family. I believe in the work that we do and the sustainability of clean energy. It's really been a humbling, rewarding experience."
Help us power forward! See career opportunities like Gracie's - and many others - below.