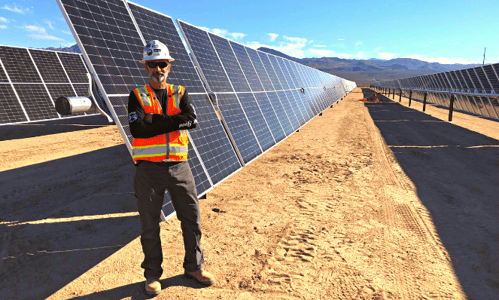 Air Force Veteran Making Impact In Quality Control Leadership Role
November 1, 2022
If you ask Paul Linde what the word quality means to him, it brings a smile to his face. 
When you've built a career around incorporating quality into your work, how can it not? Linde is a 30-year United States Air Force veteran who has witnessed the gamut of quality during his career. 
The Mankato, Minnesota, native served in the Air Force from 1987-2017, which included assignments in South Korea, Guam and Japan, he was looking for a career that was going to make a difference. What he learned in the military has certainly paid off for him in his career at Blattner. 
Linde was promoted to quality control manager in October 2022 after serving as a site quality coordinator for the past five-plus years. He's the first person at Blattner to hold this title. He travels from project to project. At each site visit you will find Paul supporting, training and mentoring site quality coordinators on their role on their projects to create successful implementations of the quality program.  
For Linde, this position is a dream job. After being a site quality coordinator for so long, the promotion meant a lot to Linde because it reinforced for him that he was making a positive impact on each of his projects. 
"It's all about the ability to understand where a leader, or someone in charge, is coming from. After 30 years in the military, it prepared me to work with all kinds of different teams at different levels," Linde said. "I do know the culture was the perfect fit for me. Blattner's culture is similar to what I experienced in the military in that there is a very clear chain of command and that we take care of each other.  
"Blattner feels like home to me. It was a smooth transition. I still wear a uniform, it just looks different.  I went from wearing camouflage every day to putting on orange vests and a hard hat." 
Since becoming part of the quality team as a site quality coordinator at Blattner Energy in 2017, he has helped define and expand on what quality means on a renewable energy construction site.  
"I view my position as critical to sustaining our quality reputation in the industry," Linde said. "When production ramps up, the focus can shift to quantity over quality pretty fast. We always want quality over quantity because this goes back to the Blattner Basic of Doing It Right the First Time. But to me, quality in business means that you're providing a customer with a product that meets or exceeds their expectations.  
"I always try and make sure Blattner is going above and beyond in that regard. Quality comes down to workmanship and pride."  
How To Bring Out Quality
  At Blattner, a site quality coordinator is a problem-solver whose job is to be genuinely curious about what's going on around them while using an innovative approach to their work. They're responsible for facilitating the effective implementation of Blattner's quality program at a project level.  
  Site quality coordinators are also responsible for promoting a collaborative team approach to ensure everything is achieved on a project. They conduct, track and coordinate defined observations, inspections and testing activities that are detailed in the project's inspection and testing plans.  
  They develop, train and suggest revisions to inspection and testing instructions and manage quality control inspectors' daily activities. The job itself isn't always easy because it means looking over someone else's work, which can lead to hard conversations. 
 Part of a site quality coordinator's job is to establish a rapport with everyone on the project. On his first day on the job in 2017, Linde was a complete stranger to a site team in Tennessee. However, within days he felt like he had known the team for years. Tensions may run high when he's inspecting the work, but it leads to validations, potential improvements and important lessons learned. 
 "People at Blattner are proud of their work and when a site quality coordinator reviews their work, they understand that we are here to help make our product better," Linde said. 
Making An Impact
 Linde had no previous renewable energy construction experience before he came to Blattner, but he knew a thing or two about how to get a team to work well together. His job in the Air Force wasn't an easy one. He helped oversee military construction projects at a high level. His background was in communications and electronics, but 12 of his years in service were in quality control for nuclear command and control systems.  
 That means all the communication systems that are used to receive launch commands from the President of the United States were inspected and maintained by his team. No pressure at all, right?  
 "The training regime was intense. We had to continuously verify our training programs. If something wasn't 100 percent, we always looked back at the nature of the failure and worked together to fix it. Blattner figured if I could handle nuclear launch systems, I could handle a solar farm," Linde said with a laugh. 
 In his new role as quality control manager, Linde will provide field support for other site quality coordinators and inspectors. Linde says the best thing about his job is the ability to influence the outcome of a renewable energy project while improving processes. But, in the end, it comes down to his interactions with his co-workers in the field. For him, being able to have real conversations with team members working day in and day out to get the job done is what powers him. 
 "We have so many knowledgeable people at Blattner, and they understand the importance of each task," Linde said. "I'm there to check in on how they're doing and how I can make their job better." 
 When Linde looks at the clean energy and sustainability impact that Blattner is leaving, it makes him proud to work for a company that is making a difference.  
 "We're building utility-scale wind and solar projects with a level of quality that is sustainable for a long time," Linde said. "I talk to my family about it, and they are really impressed and proud. That means a lot to me." 
 To learn more about careers with Blattner, click the link below.