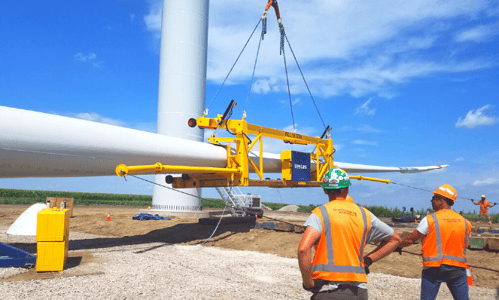 Blattner's Doug Fredrickson Named 2017 Wind Energy Person Of The Year.
Blattner Energy is proud to announce that Vice President of Operations Doug Fredrickson has been named the 2017 Wind Energy Person of the Year by the American Wind Energy Association (AWEA).
The award honors a wind professional who has consistently demonstrated strong leadership, integrity, values, vision, commitment to excellence and commitment to community.
Fredrickson aligns all operational activities including business development, client engagement, project procurement and fulfillment, personnel development and increasing the company's financial performance. He has sought out and developed new market opportunities, as well as played key roles in educating elected officials at the local, state and federal level on the positive economic realities of renewable energy. Fredrickson currently serves as secretary of AWEA's board of directors.
"Doug embodies the values of this award and we are honored to have him as part of the Blattner family of companies for nearly 40 years," said Ken Hilgert, vice president of business development of Blattner Energy. "He has been integral to the company's expansion and success, he is a national leader on promoting the economic benefits of renewable energy, and most importantly he is a man of integrity who cares about his colleagues and community."