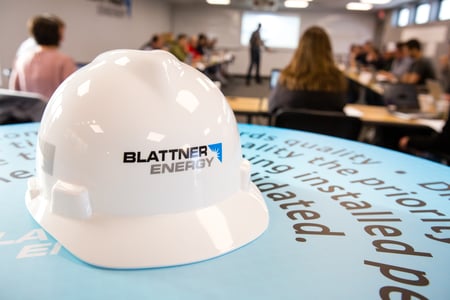 Spotlight on the Women in Renewable Energy at Blattner Energy – Project Manager
June 30, 2020
This month a Project Manager, Tina, is featured.
She shares her insight on working in renewable energy construction and turning her passion for building into a profession.
Tina has found success in her passion for building things. Starting in her junior high days installing a transmission in a '67 Ford pickup to constructing wind energy projects today, she has always been building. But Tina builds more than trucks and wind farms – she builds relationships and outstanding teams.
"I have the opportunity to build relationships with our owners and developers," Tina shares. "The jobs I enjoy the most are the ones where you really get to know the people on the project."
Specifically as project manager on renewable energy construction projects, Tina provides leadership and manages the operational and financial aspects of construction projects, and is the primary liaison with the client's project management team. Tina also serves as a cultural manager, ensuring that Blattner's fundamental values and beliefs are maintained.
"As project manager, I get to work with a great team and orchestrate the construction process," she explains. "I find it rewarding to know that I'm a part of a much larger picture."
She has been working in the construction and renewable energy industries for nearly 15 years, and her leadership hasn't gone unnoticed. Tina was recently accepted into the American Wind Energy Association's (AWEA) Emerging Leader Program at WINDPOWER. At the event she will engage in the next phase of wind energy with other rising stars in the industry.
Tina earned a Bachelor of Science in construction management from Minnesota State University, Moorhead. What she loves about working in construction and renewable energy is seeing the construction of the wind energy projects installed from the ground up.
"It's great to see more and more women in the construction industry and in supervisory-type roles," says Tina as she shares her thoughts on women in the construction industry. She also shares some advice she has for young women thinking about a career this field, "When you want to do something, follow your heart and don't let anyone sway you from your dreams."
Tina carries her leadership and passion outside of her work. She and her husband of 16 years have two boys who love to snowmobile, go four-wheeling together and work on old cars. Tina is also an Adjunct Professor where she teaches an online Sustainability in the Built Environment class at Minnesota State University, Moorhead.
"I love building America and being able to show my family what it's all about," Tina recaps on working in the renewable energy industry.