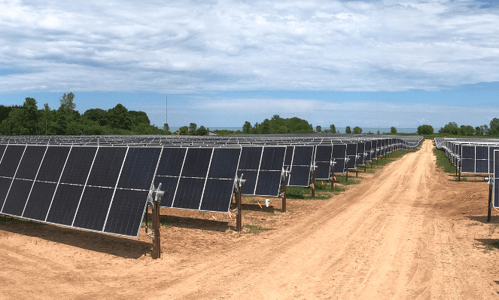 Blattner Named No. 1 Solar Contractor In U.S. By Solar Power World.
August 1, 2017
Coming off the biggest year ever for U.S. solar installations, EPC contractor Blattner Energy is proud to be named the top solar contractor in the United States by Solar Power World magazine.
Blattner Energy achieved a rank of 1 out of 500 solar companies, with a total of three awards for Top Utility Solar Contractor, Top Solar EPC, and Top Overall Solar Contractor.
The Top Solar Contractors list is developed by Solar Power World to recognize the work completed by solar contractors across the United States. Produced annually, the Top Solar Contractors list celebrates the achievements of U.S. solar developers, subcontractors and installers within the utility, commercial and residential markets. The list was released on July 25.
"The 2017 Top Solar Contractors list features 500 of the best solar contractors in the U.S.," said Kelly Pickerel, managing editor of Solar Power World. "From solar hotbeds on the coasts to up-and-coming Midwest solar market, every installer adding even the smallest solar array to the grid is making a positive impact on communities. We're proud to recognize these companies and their efforts to bring solar power to U.S. homes and businesses."
The U.S. solar market installed more than 14,700 MW of solar in 2016, nearly doubling the capacity installed in 2015. For the first time ever, solar was ranked as the No. 1 source of new electric generating capacity additions brought online throughout the year. GTM Research and the Solar Energy Industries Association (SEIA) predict the cumulative U.S. solar market to nearly triple in size over the next five years. By 2022, more than 18 GW of solar photovoltaic capacity will be installed annually, and Blattner Energy will continue to be a major player in adding solar to the grid.
Blattner employs 4,000 workers nationwide, who installed 1,419 MWs of solar in 2016. The company is North America's leading installer of renewable energy with more than 32,500 MWs installed.
"We're proud of the work we're doing in renewables, especially in solar energy," said Ken Hilgert, vice president of business development of Blattner Energy. "The job creation and economic benefits solar construction projects offer to communities throughout the United States is remarkable, and at each project Blattner constructs we strive to provide additional give back and leave a positive impact within those local communities."