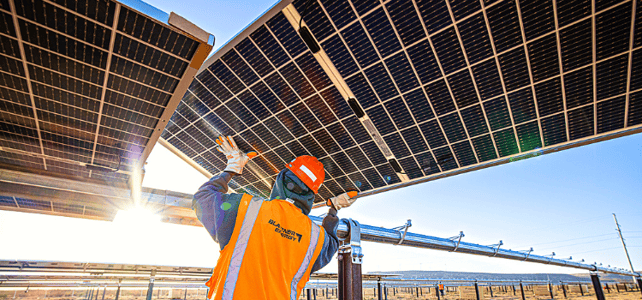 Anheuser-Busch Hits Sustainability Goal With Blattner Built Project.
February 18, 2022
A Blattner Energy solar team based in Pecos County (Texas) was recently featured in a commercial produced by Anheuser-Busch.
Anheuser-Busch's celebrates the power of renewable energy and how it creates memorable moments for people.
The company shared through this commercial that every time someone chooses to buy an Anheuser-Busch product, they're committing to a more sustainable future.
Blattner believes that sustainability can help create more sunny days where you can drink a beverage on the patio or at a campfire surrounded by your family or friends.
It's the moments like these that power Blattner to continue to build a better tomorrow through renewable energy. We are continuously innovating and learning to seek a better way to do what should be done for the betterment of our world.
Anheuser-Busch's entire portfolio of domestic beer and seltzer brands are now brewed with 100 percent renewable electricity. This is the largest solar project for the beverage industry in the United States.
As the contractor for this project, Blattner was honored that the clean energy from one of our solar sites is helping Anheuser-Busch reach their goal.
The Blattner Energy team.